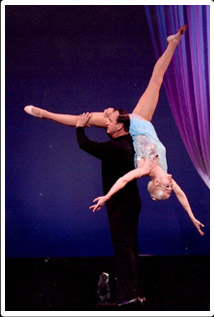 Richard and Laurie Collett
Welcome to Praise Him with Dance, owned and operated by Richard and Laurie Collett. Our goal is to honor and glorify God in all that we do, including (click on underlined headings to view):
--
Theatrical Dance
. We are performers, entertainers, choreographers, and certified adjudicators in all styles of ballroom dancing. Our specialty is Theatre Arts, also known as adagio dancing, with overhead lifts telling a story to a specific theme.
--
Rhapsody Ballroom
. We founded and have managed this public ballroom in Tampa since 1992. Our elegant, spacious facility hosts regular public dances, group classes, parties, and private instruction in many forms of dance.
--Singing/songwriting. Laurie Collett sings to Christian lyrics and songs she has written, as well as to other inspirational songs, both in live performances and in
recordings used for dance performances
.
--Speaking engagements/demonstrations/teaching.
Richard Collett
is an accomplished and entertaining M.C. for dance and other events.
Laurie (Barclay) Collett
is a retired physician and medical writer, and gives lectures on medical, nutritional, and holistic approaches to peak performance, as well as inspirational and devotional messages. Both are available for speaking, classes and demonstrations for educational or other groups.
--
usadance.com
. Our website providing an online portal to all things related to dance and dancing in all styles, including dance information, dance shoes and clothing, dance news, an online store for dance-related products, and our own dance blog!
We hope you'll find the information you need on this site about the services and products we provide. We look forward to having the opportunity to serve you!